A lot has happened since the first OJP4Europe meeting in Vienna on 22 September 2021. The OJP standard has become increasingly popular among the various providers of travel information services. The common standard enables travel information service providers to connect their routing services. Travellers can seamlessly access travel information from different routing services across borders. In projects such as LinkingAlps and OJP4Danube, valuable experience has already been gained in the use of the OJP standard, such as the need to improve routing algorithms, the improvement of data quality or the experience that the integration of new travel information systems went relatively smoothly, and a starting signal has been given for the first cooperations on a transnational level.
The second OJP4Europe event will bring together public transport operators, service providers, suppliers and policymakers to share their experiences with OJP on the one hand and to discuss key issues for the future roll-out in Europe on the other hand. We look forward to contributions from renowned representatives from LinkingAlps, OJP4Danube, EU-Spirit, the European Commission and many others at the event. Their insights and experiences will facilitate knowledge sharing and strengthen cooperation between OJP-based initiatives and networks across Europe.
What to expect at the event:
Experiences with OJP so far: Learn from the successes and challenges of integrating and using the OJP standard from the LinkingAlps, OJP4Danube, EU-Spirit and other initiatives.
MMTIS Revision and MDMS: The "provision of EU-wide Multi-Modal Travel Information Services (MMTIS)" creates the necessary conditions to make EU-wide multi-modal travel information services available accurately and across borders. Gain insights into the revision of the European framework for multi-modal travel information services and what role the Mobility Data Management System (MDMS) plays in the provision of cross-border data.
OJP Standard 2.0: Learn about the latest advances and updates to the OJP Standard, including its features and functions.
Long-distance rail data: Discuss how long-distance rail data can support and enhance OJP travel information services for long-distance rail journeys to enable smoother and more efficient journey planning.
OJP and NAPs: Discover the synergies between the OJP Standard and the National Access Points (NAPs) for the exchange of public transport data across Europe.
OJP Business models: Explore the different business models and monetisation strategies that support the use of the OJP standard and foster innovation and sustainability in travel information services.
Future Collaboration: Discuss how future cooperation between OJP stakeholders can look like to enable interoperable and harmonised OJP systems in Europe. For example, the how the technical integration of travel information systems can look like.
We look forward to welcoming you in Vienna and shaping the future of OJP in Europe together.
OJP Standard
The big challenge of distributed trip planning is to split a large task - a trip request that exceeds the limits of a single trip planner - into a group of smaller tasks, each of which can be processed by multiple local trip planners and then reassembled and presented as a single route result. A simplified process might look like this: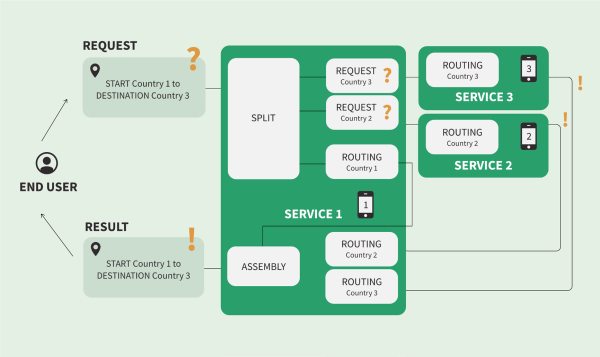 The main technical principle of distributed journey planning is to split a large task - a travel request that crosses the boundaries of one journey planner - into a series of smaller tasks, each of which is processed by multiple local journey planners and then reassembled and presented as a single routing result.
The OJP standard makes it possible to link travel information by using a uniform data format from different providers across national borders. At the same time, providers retain sovereignty over their data, as it is not collected at a central location but shared with other providers simultaneously.
You can find more information in the LinkingAlps brochure.
Here you can watch the LinkingAlps video series for more details: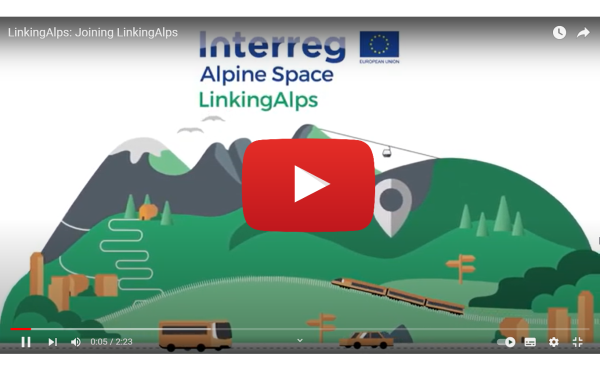 Register now!