We lead new Mobility
into a moving future
Digitisation, automation and decarbonisation not only have an impact on our mobility behaviour, they also change our societal model. AustriaTech supports the active shaping of these transformation processes in the field of mobility. As a consultative agency and as a go-between between politics, industry and research, we show possible courses of action to make transport more sustainable, efficient and safe.
From innovation to implementation
As a non-profit-organisation, AustriaTech has been following the goal of placing people at the centre of new mobility solutions and helping technological developments to be implemented for the past 15 years. As a 100% subsidiary of the Federal Ministry for Climate Action, Environment, Energy, Mobility, Innovation and Technology, we accompany innovation processes, advise on the implementation of national and European guidelines and promote exchange and joint learning between the stakeholders involved at national and international levels.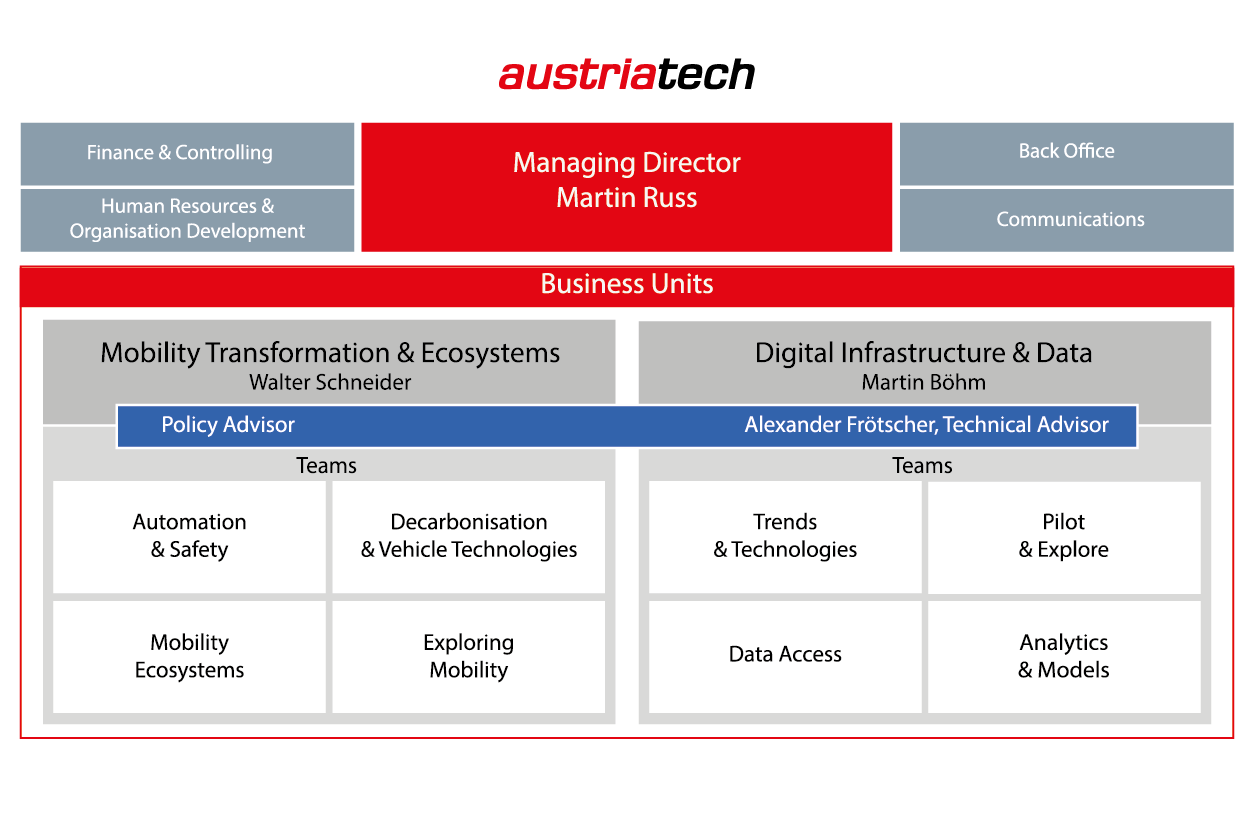 AustriaTech is organised in two business units. Through interdisciplinary collaborations we want to use synergies and create an added value for our project partners and stakeholders as well as our employees. The main emphasis of the Business Unit Digital Infrastructure & Data are on implementation-oriented activities in the areas of ITS and development and implementation processes for new mobility services as well as the analysis and usage of data. The transfer of research and pilot projects results into the implementation are in the foreground here. The Business Unit Mobility Transformation & Ecosystems supports common activities between science, industry, society and politics to further develop the mobility system. Focus areas are the integration of automated and connected mobility solutions in our transport system, the decarbonisation of traffic and new forms of mobility. Embedded into international networks AustriaTech operates as a partner to develop and support innovation strategies for the mobility system.
Stay up-to-date with
AustriaTech Newsletter
This site uses cookies to improve your user experience. Please read our privacy policy to learn more about how we use cookies and how you can manage them. You have the option to voluntarily accept all cookies that are not necessary by clicking on the "Accept Cookies" button or to reject them by clicking on the "Reject Cookies" button.