Several times a year, AustriaTech offers internships to motivated students in the fields of mobility development, technology and transport. In this way, they learn to apply their already gained expertise in real-life situations.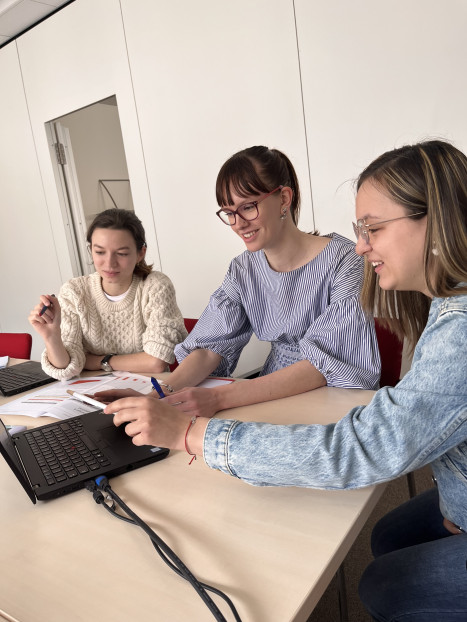 Making mobility future-proof through diversity
Both our permanent employees and our interns have a wide variety of academic backgrounds. This interdisciplinary approach gives interns a wide-ranging insight into the company's various topics, while at the same time allowing them to focus on areas relevant to their studies. This was also one of the reasons why Kristin Hanna started an internship in the "Exploring Mobility" team. "I was particularly attracted by the topics of climate protection and sustainable mobility, as well as the opportunity to gain insights into transformation processes. Furthermore, I wanted to work in and learn from an interdisciplinary team."
Learning together is particularly important to us. Our teams enjoy the input and new perspectives of our interns - the mobility experts of tomorrow. Kristin continues: "I always had the feeling that my personal development was important to both my team and my superiors and that my learning effect was at the forefront of everything I did. This was also reflected in the exciting types of tasks and responsibilities I was given."
What was your highlight?
"My entire internship. From the first moment I walked into the office. I was so warmly welcomed by everyone. Also, my personal development, building expertise and the contacts I was able to make were very valuable for me. The launch of "Österreichs Leitstelle für Elektromobilität" together with the press conference for the release of the "Sofortprogramm" were definitely the highlights of my time and of course the table tennis competition as well," says Viktoria Breuß, who studies Environmental and Bioresource Management and supported the "Decarbonization and Vehicle Technologies" team. Laura Ouf, a student of mass media and communication science, looks back on her internship with a smile, especially with regard to the international conference "TRB ISFO 2023". "As an intern in the Communications Unit, I had the opportunity to contribute to a conference with more than 320 international experts on the topic of traffic management of the future, which was a really great experience."
A look into the future
It is important to us that our interns benefit as much as possible from their time at AustriaTech for their professional future. "For my career, I was able to learn a lot in the areas of communication, knowledge exchange and self-organization of my own working methods. Gaining insights into the Austrian planning system and project coordination at the EU level was also particularly valuable. This gave me a deeper understanding of differences and similarities of the planning systems and I was able to extend this to further work/research in the mobility context", Kristina tells.

Each year, several interns are hired on a permanent basis and become permanent members of AustriaTech.